Becca
just graduated with her graphic design degree!! Shout out to Becca!!!!! Becca has recently started her own little blog design service called Cute It UP, and lucky for you, she is doing a Graduation Giveaway!!!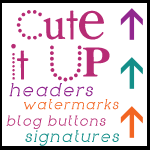 Oh yes, you can win your own Cute It UP Darn Cute blog package!!! Obviously, you can see from my blog, that she does amazing work!!! So are you interested ??? Well just click on over to
Becca's Blog
for your chance to win.